Construction started on this $6 million project at the John Halmond Center in January, 2009.
"The project has gone very well," said CMH director John North. "It's on schedule and on budget and we're very pleased with the way it looks."
The addition will increase the size of the Halmond Center from 21,000 square feet to 59,000 square feet. That will allow 145 staffers from three divisions of Community Mental Health Services of Muskegon County to join 100 workers at the CMH headquarters.
CMH provides a wide variety of services to children and adults who have mental illness or mental disabilities. The agency helps Medicaid patients and those without insurance who meet necessary registration requirements.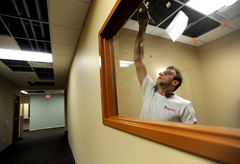 Copy and images are excepts from an article featuring Dimension Four Painting in the Muskegon Chronicle while painting at Muskegon Community Mental Health.
General contractor on this project was Clifford Buck Construction.