Dimension Four Painting was hired to renovate the exterior facia of the Ramsdell Theater during the fall of 2009. The project was managed by Lakewood Construction The job was completed on schedule with no complications.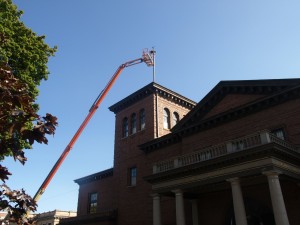 More about the Ramsdell Theater:
As Americans ushered in the twentieth century, Thomas Jefferson Ramsdell, local lawyer and philanthropist, decided to build a theatre and hall for the people of Manistee, Michigan. Replacing an opera house that had burned to the ground, it was a structure that would become the center of the cultural and social life of this small Lake Michigan coastal town. Chicago architect Solon Spencer Beman, who had designed the entire town of Pullman, Illinois for the Palace Car Company designed the Ramsdell Theatre, located at the corner of Maple and First Street in Manistee. Construction started in 1901 with the hall portion dedicated in December 1902 and the theatre section completed in September 1903. Total cost was about $100,000. Theatre builder T. J. Ramsdell instructed the architects to construct the theatre in the design of the best theatres in New York.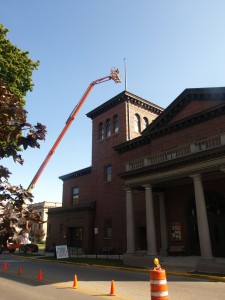 Mr. Ramsdell was a prominent citizen who was not among the more than a dozen millionaires living in this lumber boom town in 1900, but he did well enough to live affluently and to finance the building of a new theatre.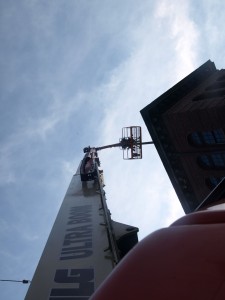 The building has been in continuous use since its construction and is currently home for the Manistee Civic Players and the Manistee Art Institute. The theatre is also used by the public for a wide variety of cultural and social activities. A program is currently underway to fully restore the theatre by its 100th birthday in the year 2003. The theatre is owned by the City of Manistee.
Information on the theatre's availablity for public use can be obtained from Ron Steinberg of the Manistee Civic Players at 231-723-7188.